Homeowners receive a postcard every few weeks with valuable market statistics, tips and effective calls to action. The best part? All of our postcards include a QR code that homeowners can scan to receive a free valuation of their property!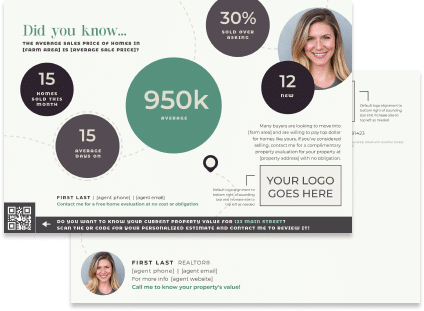 Our letters reference and follow up on previous touches, making them feel personalized and planned out. They also use best practices with proven calls to action to contact you. Harvist's success is rooted in refined practices and our goal is to maximize response rates. We keep this in mind through every step of the way.
Voicemails are extremely effective. Most homeowners listen to them, increasing your name recognition. You have the option to send voicemails to all your contacts, only those who opt-in, or you can replace it with a market update email.
Harvist knows the email addresses for the homeowners in your farm and reaches out on your behalf. The contents are thoughtfully planned out in a logical sequence but if you choose to, you can edit and customize all of our our email templates. The best part? We email all of the known emails to increase the change of reaching your leads.
The core touches are only one part of the magic. The rest comes from the tiny little details. It's just design the right way you need it to be.
You get exclusive access to your farm
No other agent or brokerage can have access to the same home that once you sign up for your farm.
Full fledged contact management system (CRM)!
You can see the status and actions that they've taken, and even give them a call if you want.
Awesome templates for all content!
You can personalize the content. But our default templates are as charming as the text on here so you don't need to.
Coaching, reminders, tips & scripts!
We'll tell you when the messages are going out & share lots of script samples.
Our lawyers assure us that we're fully compliant with all messaging laws. And all other laws, too!
Combining various data sources, we source addresses, emails & phone numbers for >70% of targets & spouses.
Ready to start your first automated real estate campaign?